Before we all leave for our summer vacations I want to share some thoughts on the Network Pages, the science communication platform which evolved from a cool side job to an inspiring daily project.
I have been working on the Network Pages for almost five years. In those five years, we managed to increase both the quality of the articles we publish, but also the frequency at which we publish. We have a constant stream of one article per two weeks, and a shorter post in the weeks between. We have almost 700 constant visitors (I still find it difficult to assess what a realistic goal is), and almost 2000 new visitors per month. Moreover, thanks to Martijn Gösgens we managed to enrich our collection of animations.
Our articles discuss quite specific topics, which means that we also have a rather specific target audience. Our main goal is to offer high-quality material (articles, animations, illustrations) shedding light on (mathematical) research done on networks and algorithms. Our intended readers are people with an interest in these fields, like students and teachers. After investing a lot of time and energy in the past years into the quality of our material we decided last year to start thinking of a new design of the website! To achieve this quality the NETWORKS program has been offering since 2019 a workshop on popular science writing together with Analytic Storytelling.
During the last months we have been working on the new design of the Network Pages, we gathered input from many people and worked together with a professional designer. The new design is almost ready and our goal is to launch it during the fall. But, before moving on to the new design some reflection and a good evaluation are needed. As mentioned we are proud of what we have achieved until now, we have to make sure we maintain what we have built and at the same time dream further.
Dutch National Center for Science Communication
Almost one year ago the Minister of Education, Culture, and Science Robbert Dijkgraaf announced that a national center for science communication (NEWS) will be founded.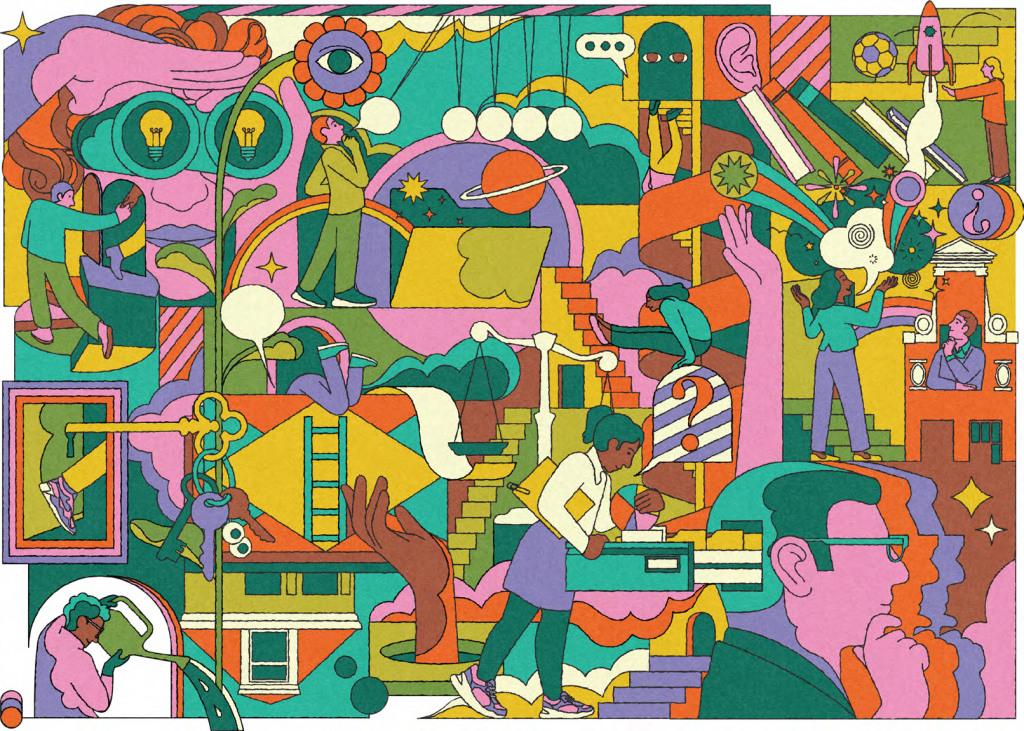 Front page of the report of Ionica Smeets and Alex Verkade on NEWS.
Beginning of this week Ionica Smeets and Alex Verkade presented their report (for the English version, the Dutch version can be found here). This was amazing news! Such a national center for science communication will stimulate collaborations and will help new initiatives learn from previous endeavors. I urge you to have a look at the report, it is very inspiring. At the same time when looking at the quality standards they have published for science communication projects, we realize that we have to make steps.
They mention the importance of reaching out to existing initiatives and fostering collaborations, but also of engaging in a public dialogue about science. Science communication goes both ways, it has to stimulate interaction. We have chosen to organize the yearly masterclass NETWORKS goes to school for school students as an interactive way to promote our scientific research. But much of what we do is one-way, we communicate research through articles. In the coming years, we will try our best to increase engagement with our audience.
Next to encouraging interaction, an important aspect of science communication is to show how science is done. Who are the people behind discoveries, and what drives, fascinates, and motivates them? Often we tend to focus too much on the content, and we forget the people and the journey that led to the final discovery. The people and the journey are also part of science, it is not only about the final result. We try to put the people in the spotlight, but we can do more in this direction. Michel Mandjes and Diletta Martinelli for example, both mathematicians at the University of Amsterdam, have been sharing regularly some of their experiences and opinions.
One thing is for sure, in a community of people who are enthousiastic about what they are doing, beautiful things can be made. With a lot of energy and motivation we will continue showing why we like mathematics so much. The new design of the Network Pages, that will come soon, will give us a great urge!
Would you like to stay up to date whenever a new post appears on the Network Pages? Then subscribe to our mailing list, follow us on Twitter or on LinkedIn.